Dawn Study by Maria V Snyder
Publication Date:
January 31st, 2017
Publisher:
Mira Books
Pages:
384
Series:
Study #6/Soulfinders #3
Source:
Netgalley/Publisher
Rating:
2/5
Add to Goodreads
It literally hurt my heart to give this book anything but 5 stars, but here we are; a massive puddle of disappointment.
The Study series is my precious. After waiting many years in the hopes that Yelena would grace my life with more books my dream came true. And now we're at the absolute end(I assume so anyhow) and I'm mad.
Dawn Study what the hell? It's not even the story, although there was nothing super stellar or shocking about it(in fact, it was overly repetitive; capture, rescue, scheme, capture, rescue, scheme, and repeat). It's everything else. I'm not sure if this was a rush job or Snyder got confused, but this book feels so out of place. The writing is meh. The dialogue is lacking is every way possible. And the characters! These were not my characters I know and love. Their voices are missing. Their personalities are missing. These were just some random characters that happened to have the same names as my beloved ones. I mentioned the dialogue was lacking, and well that's because these characters were. Everything was so forced and not good. No sexy Valek. No funny Ari and Janco. Yelena was a shell of her usual kick-ass self.
I'm just so upset and angry. I really wish I'd skipped this finale. It would be better to have no ending than this ending...
By Your Side by Kasie West
Publication Date:
January 31st, 2017
Publisher:
Harper Teen
Pages:
352
Source:
Edelweiss/Publisher
Rating:
DNF
Add to Goodreads
DNF @31%
Guys, I just did something shocking. I marked a Kasie West book as "DNF".
I can't even.
But you know what? I haven't touched the book in two months. Haven't even thought about. That first 31% was hell to get through too.
I thought I was going to love this one based on the premise of getting stuck in the library with a cute guy(and it being a Kasie West book). Apparently, that's not all it's cracked up to be. Autumn(the MC) is a moron. The story of her getting stuck in the library makes no sense. Like absolutely zero. It makes it impossible to believe. Plus all the reasons she can't get out or no one has come looking for her, also ridiculous.
I don't even like Dax. Although if I could have stood to be in Autumn's head, Dax would have been the reason that I kept reading. I feel like he has a much better/interesting story than Autumn and her superficial worries. I mean, Jesus women, this guy(Dax) is telling you he holes up in the library because his foster family are terrible people and he can't stay there. And you're worried about getting yourself out because your best friend might be trying to "steal" your crush from you. Dax is literally begging you not to try and call the police and you can't think about him. Nah, girl is petty and selfish. I don't need to read about another spoiled brat who is shown the error of her ways by a poor kid with a tragic life. I'm sure there are parts I'll like, but I just can't bring myself to care enough about Autumn and her getting to a better place by the end of the book. I'll just assume she'll continue to be a jerk to Dax and not see how shitty her friends are for 85% of the story.
Hard pass.
The Cottage at Firefly Lane by Jen Gilroy
Publication Date: January 31st, 2017
Publisher: Forever
Pages:
368
Series:
Firefly Lake #1
Source:
Indigo(Tina)
Rating:
DNF
Add to Goodreads
DNF @ 100 pages
I'm not one to shy away from DNF'ing. But this year I promised myself to do it more often. There is absolutely no point in finishing something I'm not enjoying. Especially when I have a billion books on my ever-growing TBR.
This isn't a bad book, there's just nothing compelling me to finish it. Let's just call it dull. It's funny because it's not overly dramatic yet it is. One character has just lived through a near death experience; plus her past includes two recently dead parents, and two things from her teen years that caused her to run away from her life and boyfriend(Sean, the other MC). I mean that is way too much tragic history. It's so overdone. And that's only in 100 pages, who knows what else this girl could experience before the book ends. Add on that Charlie isn't all that likable and what am I reading this for?
Sean was fine. In fact, I probably would have liked the book more if it was just from his POV. He seems a lot more level-headed than Charlie.
There's nothing compelling me to read. The story is utterly predictable. The characters are uninteresting. The dialogue is so-so. Just dull. Very dull.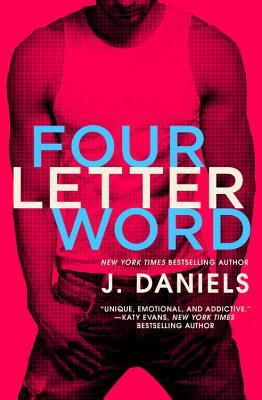 Four Letter Words by J.Daniels
Publication Date:
October 4th, 2016
Publisher:
Forever
Pages:
416
Series:
Dirty Deeds #1
Source:
Purchased
Rating:
1.5/5
Add to Goodreads
It's funny how you go from thoroughly enjoying a book to becoming super frustrated and over it. Ie: Four Letter Words.
I was so into this one for almost half the book. I devoured it and stayed up way past my bedtime to keep reading. But then it all went downhill. Syd and Brian finally met in person and everything became overly cheesy and dramatic. Calling each other my girl and my boy, what are we 15? The sex scenes were blah and I was pretty much just skipping over them. Just everything turned into an eye roll. Syd was crying or giggling on every page. Brian was thinking about ways to get inside his girl. And I probably should have just closed the book at that point.
Four Letter Words was overly long for a romance. Could have cut 100 pages out and nothing would be amiss. Of course, everything still hit the fan with 30 pages left, because obviously.
Too bad. Because I thought I was really going to like this one. At this point, I'd give the first half a 4* and the second half a 1*. So take with that what you will. We'll see how I do with the second book.
Time Served by Julianna Keyes
Publication Date: March 23rd, 2015
Publisher: Carina Press
Pages: 283
After reading Undecided early in 2016 and absolutely adoring it(it was a top favourite of 2016), I knew I needed to read Keyes' back titles. So here were are. Well, the writing and fundamentals of this book are fine. I, unfortunately, did not enjoy 75% of it. The real downer for me was Rachel and Dean. I didn't like nor connect to either of them. And I really did not enjoy their relationship. Both have a lot to learn and really just need to grow up. I can understand Rachel wanting to move away from her past but hey, maybe don't be so condescending about it. She's always sorry for leaving Dean, Dean is bent on hurting her and revenge. But you know there's still love simmering there so it's just all so messy and unappealing. These are two people that just need to move the hell on from each other. The sex scenes were not my thing. They seemed to really be saturated with hate and I just, no thanks. Their whole back and forth, hot and cold made the book feel longer than it is. I kept thinking about DNF'ing.
Good news is that I enjoyed a bunch of the supporting characters like Parker, Baxter, and Oreo a whole bunch. So they made the story so much better.
Ultimately, Keyes is a great author. This story didn't hit its mark for me. But that doesn't take away from her writing, dialogue or just general storytelling abilities. I look forward to checking out more of her work. Especially Undeclared when it's released sometime this year.
Happy reading!

Brittany