Hello friends. I'm sure you've been hearing and seeing all the buzz for
The Hazel Wood
for the past handful of months. I guarantee the hype is real. But also, release day is right around the corner. Which is why I'm excited to be involved in the blog tour. Read on for a fun Q&A and my review.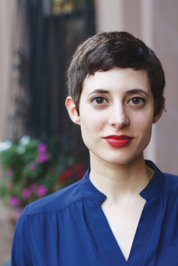 About the Author
Editor of
@BNTeens
, managing editor of
http://BN.com
. Book pusher, Ravenpuff. Author of THE HAZEL WOOD (Flatiron 2018). She has written for McSweeney's, Time Out Chicago, MTV and more. Melissa is from Illinois and lives in Brooklyn, New York.
twitter
|
goodreads|
Q: You created one darkly atmospheric and crazy story. I could never assume anything. Which is exactly what I love about the original fairy tales. I feel like you take readers on an adventure we'd only want to take in a book. Did you grow up on portal fantasies and fairy tales and characters like Alice? Alice is unexpected, to say the least. A
: Yes, every book Alice mentions is a book I myself have loved! I'm a book blogger and a former bookseller, and it was so fun to write a story I could absolutely fill with secret book recommendations. I, like Alice, remember times in my life through the books I've read—Francesca Lia Block and Allen Ginsberg when I was 14, The Fairy Rebel in middle school, Wise Child and Thomas the Rhymer in junior high. Peter Pan has long been one of my very favorite books—it's far darker and more fascinating than you might guess if you've only seen the Disney movie—and other portal fantasies I've loved include, of course, the Chronicles of Narnia. I like that you felt you couldn't assume anything when reading The Hazel Wood: I love that feeling when you're reading a fantasy novel of, "holy crap, is the author going to do THAT?" and I remember feeling it very strongly at the end of Laini Taylor's Daughter of Smoke & Bone and Days of Blood & Starlight. Those books inspired me to want to do the bigger, weirder thing when I write, even if I'm not sure, going in, how I'll manage it.
Review
Series: The Hazel Wood #1
Pages: 368
Source: ARC from publisher
Rating: 4/5
Seventeen-year-old Alice and her mother have spent most of Alice's life on the road, always a step ahead of the uncanny bad luck biting at their heels. But when Alice's grandmother, the reclusive author of a cult-classic book of pitch-dark fairy tales, dies alone on her estate, the Hazel Wood, Alice learns how bad her luck can really get: her mother is stolen away―by a figure who claims to come from the Hinterland, the cruel supernatural world where her grandmother's stories are set. Alice's only lead is the message her mother left behind: "Stay away from the Hazel Wood."
Alice has long steered clear of her grandmother's cultish fans. But now she has no choice but to ally with classmate Ellery Finch, a Hinterland superfan who may have his own reasons for wanting to help her. To retrieve her mother, Alice must venture first to the Hazel Wood, then into the world where her grandmother's tales began―and where she might find out how her own story went so wrong.
Lol. What?
Don't get me wrong. I was super engrossed from page one. The Hazel Wood is a unique tale. I was never 100% sure what was happening but that's what made the book weird and spooky and surprising. And sooooo atmospheric. The writing is deliciously beautiful in this dark manner. That so fits with the tone of the book.
Alice is kind of an asshole. Sometimes. And angry. And a misfit with a terrible case of bad luck. You going to be hating on Alice some. But her personality is fitting. I don't want to say redemption is in her favour, because it's a weird weird world. The girl just got some stuff to deal with alright.
The Hazel Wood is a dark tale for us fairy tale readers out there. It incorporates all the things I love about these unlovable fairy tale lands and characters. These characters guys! This world! You're not even ready. The mystery and mystic surrounding them and what happens when doors open. How about fate and family. Interesting characters at every turn(Finch will surprise you in many ways).

The Hazel Wood and Hinterland is this all-engrossing character. Worlds and lands are just as important in these kinds of stories and Albert does not disappoint. Nothing, I mean nothing, is as it seems. Portal fantasy with a fairy tale twist at it's best. I do not envy Alice and her "adventures" through the Hinterland.
I picked this up thinking it the perfect fall time spooky read and it is that. I realize January isn't fall, but The Hazel Wood works perfectly then too. A dark tale for a cold and cozy winter night.




I want to thank Raincoast for having me on this blog tour. And Melissa for taking the time to answer my question.
It was just announced that The Hazel Wood has more books coming in the future. Which is great news. The Hazel Wood is a full and complete book but more is much appreciated.

Let me know if you guys are going to be checking out The Hazel Wood next week.

Happy reading!

Brittany